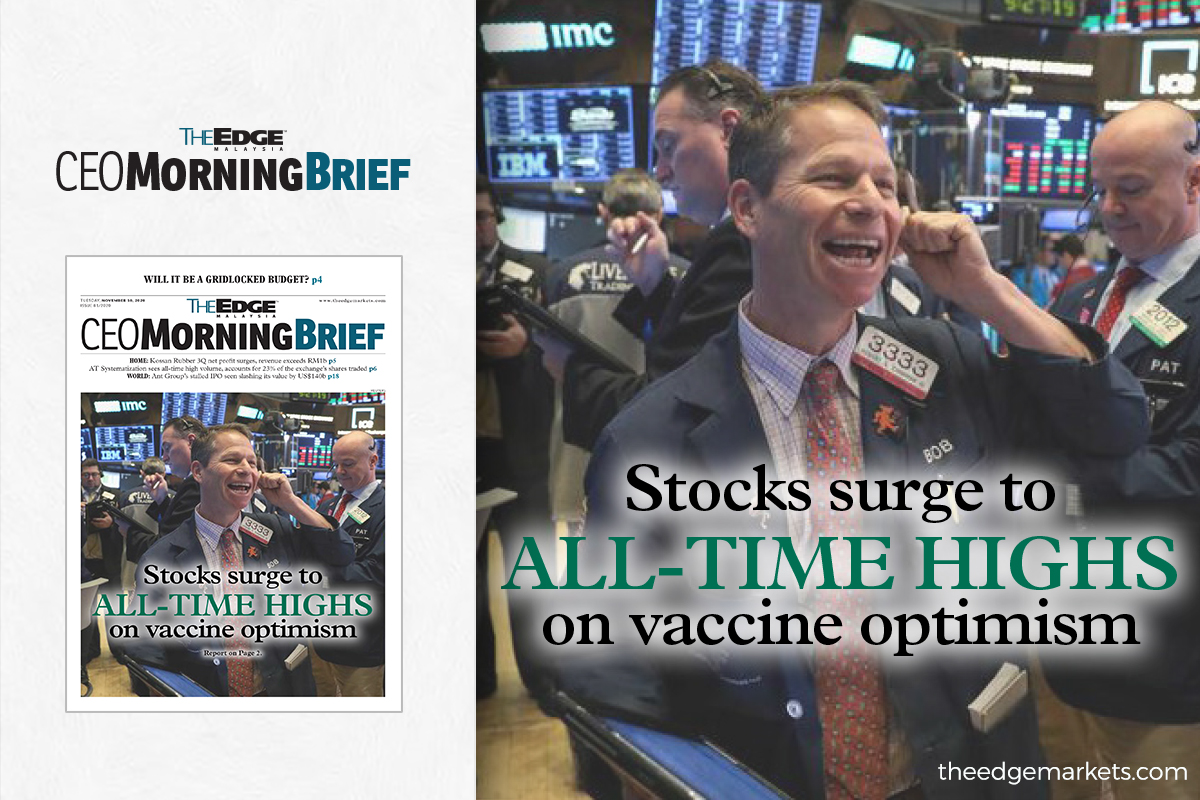 (Nov 9): Stocks surged around the world and bonds tumbled after a large-scale coronavirus vaccine study delivered the most-promising results in the battle against the worst pandemic in a century.

The S&P 500 and the Dow Jones Industrial Average climbed to all-time highs on news that the Covid-19 shot being developed by Pfizer Inc and BioNTech SE prevented more than 90% of infections. Novavax Inc's vaccine received a fast-track designation from US regulators, bolstering optimism.

All the enthusiasm pushed up companies that have been hit hard by the economic toll of lockdowns such as small caps and travel stocks, with American Airlines Group Inc and Carnival Corp soaring more than 22%. Stay-at-home companies Zoom Video Communications Inc and Peloton Interactive Inc plunged at least 18% on hopes that a return to normal is on the horizon.

A credit derivatives index that measures the perceived risk of high yield dropped by the most in seven months, with junk-rated companies hitting the market in droves to take advantage of a plunge in borrowing costs. Oil soared, while gold, the Japanese yen and the Swiss franc slumped.

Investors pulled out of haven assets and poured cash into markets that are closely tied to economic growth, with a gauge of global stocks also hitting a record high. President-elect Joe Biden on Monday announced a new coronavirus task force as his transition team seeks to fulfill a campaign promise to develop a dramatically different approach than President Donald Trump's to contain the pandemic. The top infectious disease expert in the US Anthony Fauci says the Covid-19 vaccine being developed by Pfizer will have a "major impact" on everything we do with regards to the coronavirus, going forward.

"The bull market has a ton of ammunition to keep going," said Chris Larkin, managing director of trading and investing product at E*Trade Financial. "With more certainty around the election, a strong quarter of earnings across many sectors, and extremely positive news on the vaccine front, there is little to hold us back."

Elsewhere, the Australian dollar-yen cross — a commonly-watched risk barometer — surged by most since June. The Turkish lira soared after the weekend resignation of the country's economy czar and the dismissal of the central bank chief.

These are some key events coming up:
Alibaba holds its annual Singles' Day on Wednesday, an online global shopping phenomenon that had US$38 billion of sales last year.

European Central Bank President Christine Lagarde, Bank of England Governor Andrew Bailey and Federal Reserve Chair Jerome Powell are among the speakers Thursday at an online ECB Forum entitled "Central Banks in a Shifting World".

Finance ministers and central bankers from the Group of 20 hold an extraordinary meeting Friday to discuss bolder action to help poor nations struggling to repay their debts.

- Bloomberg