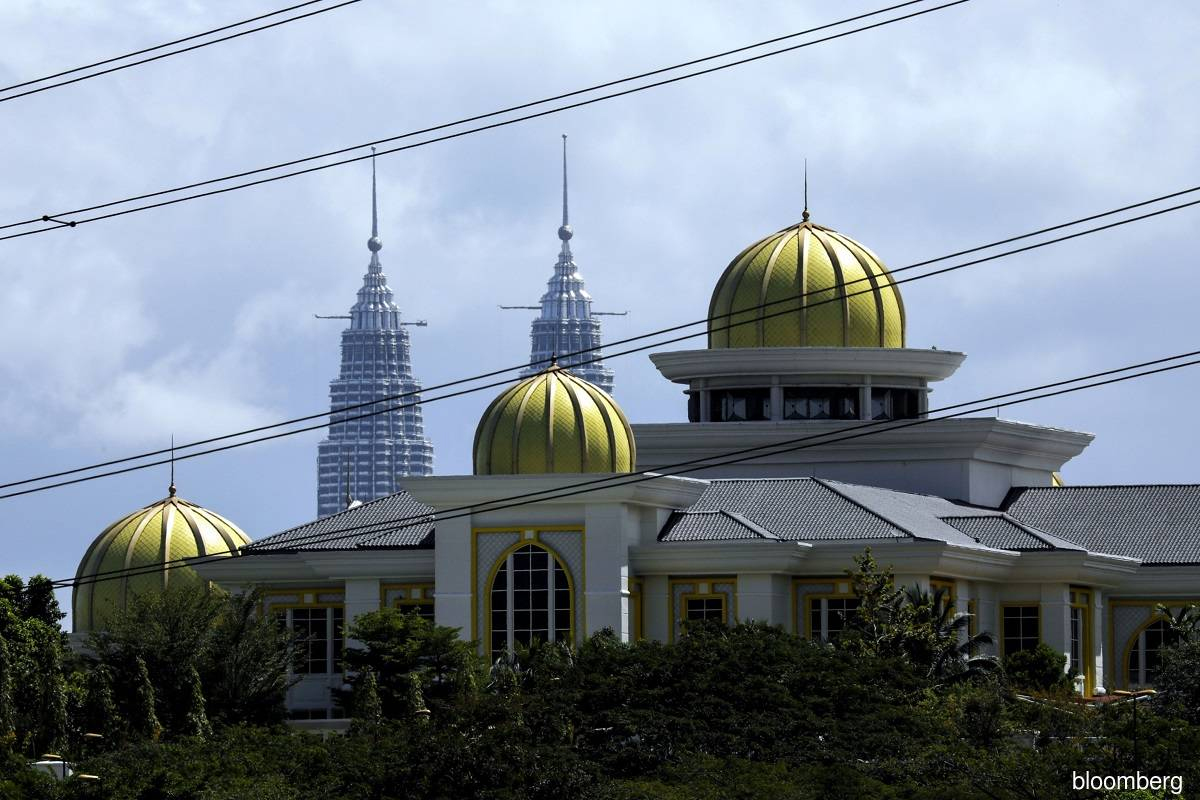 Political affairs will be in focus this week after Prime Minister Tan Sri Muhyiddin Yassin met with the King, Sultan Abdullah Ahmad Shah, last Friday (Oct 23).

At the time of writing, no announcement had been made on a widely speculated declaration of a national health emergency to curb the current high numbers of Covid-19 positive cases. Such a move would also inevitably freeze any potential political manoeuvres. It was reported that the King will make a decision on when the state of emergency will take effect after he meets with the Rulers.

All eyes will also be on the local stock market on Monday and its reaction, if a state of emergency in Malaysia is declared over the weekend.

News of the potential development jolted the market last Friday, with the benchmark FBM KLCI falling into negative territory after posting gains earlier in the day. It closed 4.16 points, or 0.3%, lower at 1,494.64.

Elsewhere, the key focus this week is likely to be on the US' third-quarter gross domestic product (GDP), which will be announced on Oct 29, just ahead of its presidential election on Nov 3.

The world's largest economy is expected to swing to a record increase. A Bloomberg survey sees GDP growing 32% quarter on quarter on a seasonally adjusted annual rate, after the record 31.4% plunge in 2Q as a result of government measures to curb the spread of the Covid-19 virus.

Attention will also be on China's fifth plenum or plenary session, a closed-door four-day gathering comprising President Xi Jinping and members of the Communist Party's Central Committee that kicks off in Beijing on Monday, which will lay out the framework of the world's second-largest economy's five-year plan from 2021 to 2025.

The gathering, usually held annually, has historically been watched for major reform announcements. This year, the session will also focus on the country's mid-term"2035 vision".

"The Chinese leaders have indicated that the GDP growth targets will be de-emphasised and focus is on the quality and composition of economic development and other policy targets embedded in the 'dual-circulation' economic strategy," says UOB Global Economics & Markets Research in an outlook report last Friday.

The dual-circulation strategy, a two-pronged development strategy that seeks to stimulate domestic demand in addition to catering for export markets, is understood to be aimed at reducing the country's dependence on overseas markets and technology over the long term. This is expected to have knock-on effects on other countries.

Meanwhile, on Wednesday, the Department of Statistics Malaysia will put out September trade data and producer price index reading.

Markets will close on Thursday to commemorate the birthday of Prophet Muhammad.

On Friday, Bank Negara Malaysia will release September banking statistics and provide a detailed disclosure of its international reserves as at end-September.

In Asia-Pacific, South Korea will announce its 3Q GDP on Tuesday, as will Hong Kong and Taiwan on Friday. A Bloomberg poll sees South Korea's GDP contracting 1.5% year on year, with Hong Kong's falling 6.3% y-o-y and Taiwan's declining 0.05% y-o-y.

There is little macroeconomic data expected out of China this week. Apart from September industrial profits, which will be out on Tuesday, there is also the official manufacturing and non-manufacturing Purchasing Managers' Index (PMI) readings for October on Saturday.

According to a Bloomberg poll, manufacturing PMI is expected between 51.3 and 52.0 (from 51.5 in September) while non-manufacturing may move up to 56.7 from 55.9.

There is a slew of public holidays in the region this week. On Monday, Hong Kong's markets will close for the Chung Yeung festival and New Zealand's will close for Labour Day.

Indonesia's markets will close from Wednesday to Friday to commemorate the birth of Prophet Muhammad.

In the US, key data out this week includes September new-home sales (Oct 26), the August house price index (Oct 27), September pending home sales (Oct 29) and personal income and spending (Oct 30). Corporate earnings will remain in focus as more than 180 Standard & Poor's 500 companies report 3Q results.

With the US presidential election approaching, lawmakers are scrambling to negotiate a new coronavirus stimulus package. House Speaker Nancy Pelosi said last Thursday that the Democrats and the White House are "just about there" on a deal for the package, but warned it could take "a while" for Congress to write and vote on relief legislation.

The eurozone will announce 3Q GDP on Oct 30, as will Germany, France and Italy.

Japan and the European Union will have monetary policy decisions to make on Oct 29, as will Canada on Oct 28. All three are widely expected to stay pat on their key interest rates.
https://www.theedgemarkets.com/article/week-ahead-malaysian-politics-us-3q-gdp-and-meeting-chinas-top-leaders-focus