INTEREST in healthcare stocks emerged again last week, after health director-general Tan Sri Dr Noor Hisham Abdullah warned that Malaysia could see a third wave of the Covid-19 pandemic as infections surged globally.

Locally, the number of coronavirus cases also continued to hit new highs in the past week.

So far, analysts are not too worried about the pandemic's impact on the stock market, but more volatility could be expected from the external front ahead of the US presidential election on Nov 3.

"I don't think it will be as bad as the first wave because now we are [settling] down with the new norm. The market is very much dependent on [what] happens in the US ahead of the presidential election. [US President] Donald Trump is very desperate, so it will create more volatility to the market," says Rakuten Trade head of research Kenny Yee.

MIDF Amanah Investment Bank Bhd research head Imran Yassin Yusof says glove stocks have been the strong support for the local bourse, with interest returning to the sector as the pandemic worsens.

"Our market would have been much lower without glove stocks. The potential third wave of Covid-19 is weighing on the market. The knee-jerk reaction is that investors are flocking to glove stocks," he says.

Inter-Pacific Securities Sdn Bhd head of research Victor Wan expects glove stocks to remain in consolidation mode, as demand for gloves will continue to be strong going into 2021. "The sector is not dead, but there is a little bit of cautiousness, given that the share prices of glove stocks have gone up so much. So, it is now seeing a bit of consolidation."

For vaccine-related stocks, Wan says it is still uncertain how the vaccines will be distributed once available.

Imran sees higher potential, however, in vaccine-related stocks than glove stocks, especially for Pharmaniaga Bhd and Duopharma Biotech Bhd, which will be undertaking the fill and finish processes for the Covid-19 vaccine once it is found.

"Pharmaniaga has the experience to distribute drugs. We should look at its track record. But we don't know the details about those who have signed the agreements," says Imran.

Overall, Wan does not foresee major catalysts for the local bourse for now. "From the economic front, we are stagnating a bit. The manufacturing PMI (Purchasing Managers' Index) is not very strong and exports are down. The market will run its course; we need to wait much longer to see what comes out on the horizon," he says, noting that the suspension of the US stimulus talks is a setback for the market.

Yee foresees more focus shifting to companies that are involved in personal protective equipment or vaccine distribution. He advises investors to stick to high-dividend stocks such as RCE Capital Bhd, which has not been affected by the pandemic, in this volatile market.




Other favourite picks are Supercomnet Technologies Bhd, which makes wires and cables for medical devices, and D'Nonce Technology Bhd, which produces packaging boxes for glove makers.

RHB Research advocates a balanced portfolio that calls for a trading strategy to capitalise on short-term momentum plays, underpinned by core holdings in defensive and resilient yield stocks, coupled with an increasing pivot to cyclical sectors, to be adequately positioned for a structural recovery.

"We have 'overweight' calls on rubber products, gaming, real estate investment trusts, property, construction and basic materials. A decisive shift to cyclical sectors would add greater emphasis on banking, oil and gas (O&G), plantation, gaming, consumer and technology," the research house says in an Oct 7 note.

As gloves remain a favourite for retail investors, HLIB Research does not expect "retail liquidity" to swiftly evaporate now that the automatic loan moratorium has ended. Other contributing factors are that fixed deposits remain low and the loan repayment trend suggests that "moratorium money" was not significant in driving retail inflows to begin with.

"On the other side of the liquidity equation, with foreign shareholding at a decade low (August: 20.8%; mirroring the global financial crisis trough), alongside the US Federal Reserve's unlimited quantitative easing, the base now appears more palatable to envision their re-entry," the research house states in its Oct 2 economics and strategy report.

Yee concurs, saying that more investors want to invest in the stock market for higher returns. "Malaysia is one of the high-savings countries. Now, people are more willing to unlock their savings and put them in the stock market. That is why we saw such high liquidity."

Meanwhile, both Wan and Yee pin little hope on the upcoming Budget 2021, which will be tabled on Nov 6. "The government is expecting tax receipts to be lower. At the same time, it has to spend a lot more on stimulus," says Wan.

"Unless the government is very generous, like cutting the income and corporate taxes. But I don't think [that will happen] because it is also in need of funds and has spent so much to combat the pandemic," Yee notes.

Imran believes Budget 2021 is likely to be expansionary and in turn benefit the construction sector, but he points out that the risk is the passing of the budget. "We don't know how the Members of Parliament are going to behave. If we cannot get the budget passed, then we can expect more volatility in the next general election."

Similarly, he says the US presidential election will bring volatility to the market, as Trump may take more drastic action.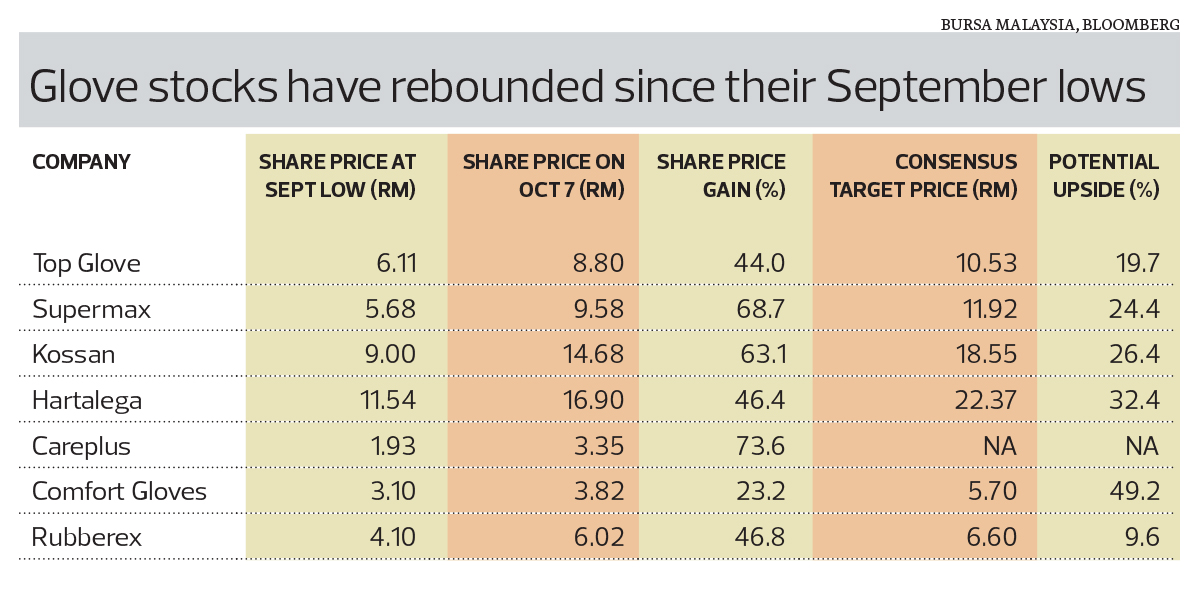 Glove stocks see potential upside
Based on consensus target prices, glove stocks still present buying opportunity, with a 9.6% to 49.2% upside. Analysts are divided, however, on the prospects for the glove industry.

JF Apex Securities Bhd believes the market will start pricing in normalised earnings and looking beyond the peak earnings for glove players, as the hype on the sector could soon fade.

"While we believe glove demand could still be resilient post-pandemic, underpinned by hygiene awareness, we highly doubt the sustainability of a high average selling price (ASP). The ASP hike might end as early as 1HCY2021, owing mainly to intense competition as more new players jump on the bandwagon to produce medical gloves (striving for volume to attain economies of scale to cover fixed overheads at the expense of ASP), coupled with mass vaccination, possibly by 1HCY2021, which will result in supply outweighing demand in the sector," it says in a Sept 30 note.

"As stock prices run ahead of fundamentals, investors are advised to take profit on glove counters and opt for a better alternative such bargain-hunting in other sectors that offer more attractive value and/or risk-reward proposition."

JF Apex expects sectors that were hit hard by Covid-19 to "come back" strongly in 1H2021, following the arrival of a vaccine and an anticipated economic recovery. "Based on our findings, among sectors listed in the local bourse, O&G, industrial and transportation are offering attractive valuations with high potential earnings growth based on market estimates."

Kenanga Research believes, however, that ASP for gloves will be stubbornly high at least till mid-2021, which supports exponential quarter-on-quarter earnings growth over the next few quarters.

It foresees a tight supply situation as nitrile raw material and glove formers shortage will lead to longer production lead time. Also, the estimated incoming capacity for 2020 to 2022 indicates that demand will continue to outpace supply.

"All in, we are excited with the sector prospects over the next few quarters, owing to supply tightness amid strong demand. Specifically, the industry trend of rising weekly and monthly ASPs is expected to boost bottom lines," it adds in its Oct 4 note.

Who are in advanced stages of vaccine development?
On Oct 2, the World Health Organization (WHO) issued a draft report on Covid-19 candidate vaccines. It shows that 42 candidate vaccines are in clinical evaluation, of which 10 have entered Phase 3, including three Chinese vaccine manufacturers — Sinovac, Sinopharm and CanSino Biological Inc. Others are AstraZeneca, Gamaleya Research Institute, Janssen Pharmaceutical Companies, Novavax, Moderna and BioNTech/Fosun Pharma/Pfizer.

On Sept 23, Solution Group Bhd inked a registration, manufacturing and commercialisation agreement for it to market and distribute in Malaysia the vaccine developed by CanSino. This came after a memorandum of understanding was signed in August.

Meanwhile, Kanger International Bhd had on Sept 22 entered into a deal to appoint Shenzhen Public Health Technology Co Ltd to procure dealership status from Sinopharm's subsidiary, China National Biotec Group Company Ltd, to distribute vaccines in Southeast Asia.

Interestingly, Johor Umno deputy chief Datuk Nur Jazlan Mohamed was recently appointed Kanger chairman.

Last Tuesday, Bintai Kinden Corp Bhd entered into a distribution and licensing agreement with US-based firm Generex Biotechnology Corp and its subsidiary NuGenerex Immuno-Oncology Inc for their Covid-19 vaccine in Malaysia.

This agreement is in relation to the memorandum of understanding and heads of agreement signed with the respective companies in August and September.

Generex is among the 151 candidate vaccines that are in pre-clinical evaluation, according to the WHO document.

Ho Wah Genting Bhd's candidate vaccine in collaboration with US-based E-MO Biology Inc (EBI) is not found, however, on WHO's list of clinical or pre-clinical trials. The wire and cable manufacturer has said it is investing US$1 million (RM4.2 million) in a joint venture with EBI, which entitles it to 40% of profit from a commercialised vaccine.

http://www.theedgemarkets.com/article/third-wave-looms-investor-interest-returns-healthcare-stocks